Credits – Dank
Gratitude is an important tool for a life in joy and peace.
Therefore, my credits to other assiduous bees may be expressed, here. My deepest gratitude for support, creative collaboration and inspiration. Please note: This list does not claim to be complete.
♦
Dankbarkeit ist ein wichtiges Werkzeug für ein Leben in Freude und Frieden.
Daher darf sich mein Dank an andere emsige Bienen hier ausdrücken. Mein tiefster Dank für Unterstützung, kreative Zusammenarbeit und Inspiration. Bitte Beachten: Diese Liste stellt keinen Anspruch auf Vollständigkeit.
THANK YOU! to each single visitor of my websites.
♦
DANKE DIR! an jede einzelne Besucherin und jeden einzelnen Besucher meiner Webseiten.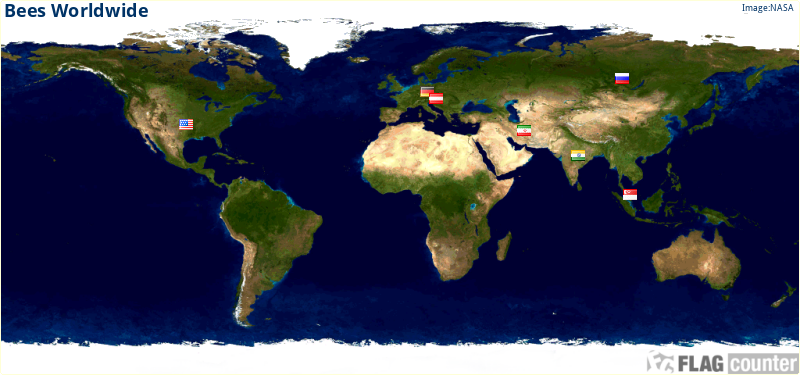 (map shows visitors from 2013-10-03 to date – Karte zeigt Besucherinnen von 2013-10-03 bis dato)
THANK YOU! Kim Kersey for your love, patience, inspiration, support and for enhancing my English language skills.
♦
DANKE DIR! Kim Kersey, für Deine Liebe, Geduld, Inspiration, Unterstützung und dafür, dass Du meine Englischkenntnisse verbesserst.
THANK YOU! mum for your love and continuous support.
♦
DANKE DIR! Mami, für deine Liebe und fortlaufende Unterstützung.
THANK YOU! blogger community for being as awesome as you are and for each of you shining your unique light.
♦
DANKE EUCH! Bloggergemeinde, dafür, dass Ihr so umwerfend seid sowie an jede und jeden von Euch dafür, dass Du Dein einzigartiges Licht erstrahlen lässt.